Senior Movers
If you or someone you love is an older adult moving in Salt Lake City, get the professional help you deserve by calling one of the area's most trusted professional moving companies: Two Man Movers & Storage. We have been serving seniors and their families with exceptional moving and storage services since 1999, so we know what it takes to complete your move the right way: with extreme care and attention to detail.
Two Man Movers is a full-service moving company servicing the Salt Lake City Area. Our team of local movers is prepared to step up to the plate to help you or your loved one during this special moving process. Not only do we provide packing, labor and storage services, but our professional movers are trained to provide attentive customer service specific for senior moves.
Certified Senior Moving Services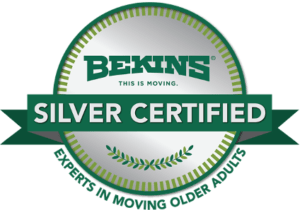 Planning a move is a lot for anyone to handle. So, getting the right help is crucial, especially for older adults. At Two Man Movers, our friendly, knowledgeable staff has expertise in moving seniors who may need to downsize, store or get rid of items. You can also trust that our company understands the difference between moving a young family and relocating an older adult.

Two Man Movers & Storage has earned a Silver Certification from Bekins Moving after completing weeks of extensive training to move seniors efficiently and effectively. The training program, which is endorsed by the National Association of Senior Move Managers (NASMM), uses in-person and online training to provide the skills needed to work with older adults. So, if you're an older adult planning to relocate, look for the Silver Certified seal on our page and trust your that your in the hands of those specialized to work with older adults!

When you plan a senior move with Two Man Movers & Storage, you'll receive convenient moving services such as:
Superior Packing and Unpacking Services

– You've acquired a lot of valuable possessions throughout your life. We will ensure they stay safe and undamaged throughout your entire move by using only the best packing supplies and expert packing techniques.

Storage

– If you're looking for a place to store some of your belongings or furniture as a result of downsizing, we offer safe and secure warehouse storage on either a long and short-term basis.

Downsizing

– A lot of seniors prefer to downsize when they move. Whether you're moving from a house to an apartment, relocating to a retirement community, or moving in with a family member, you may find you don't have as much room for your belongings. We can help you sort through your belongings so that you can decide what to bring, and what to leave behind.

Declutter Your Home

– Need help getting rid of excess items? We offer comprehensive decluttering services on every move. We will help you recycle, donate, or consign any items you don't want to bring with you to your new home. Just let your senior move manager know which services you want to take advantage of.
Senior Moving Resources
From our experience, we understand that senior moves are unique and require special attention. Our movers have been trained to be patient, attentive listeners. We recognize that moving a senior can be an emotional task. Our employees are aware of the importance of talking to the children and other family members who are often involved in moving an older adult. This extra layer of communication must be handled gently with expertise to minimize confusion.
Additionally, many senior moves include moving to or from senior communities, such as assisted living facilities. This requires a moving company to know and understand what questions to ask all parties involved to ensure a smooth move.
We will coordinate and oversee every phase of your move to ensure the highest quality of service. We are a full-service senior mover with convenient and quality services including: packing, loading, unloading, assembling furniture or decluttering your home, we handle all of the heavy lifting for you, so that you can relax.
We even help you take your senior move planning a step further by offering two senior moving resources:
What Not to Pack: Review this list for any hazardous materials, high-value items and other belongings that shouldn't be packed and can't be moved by our movers. Our crew always looks out for these items, but you can get a head start by preparing before the movers arrive!
Things to Remember When You Move: From worrying about the logistics to all the other small details of your move, there can be a lot to remember! Ensure you're as prepared as possible so nothing slips through the cracks. Review this handy moving checklist and your move can remain stress-free from beginning to end.
For more great tips, check out this In-Depth Senior Moving Guide from Caring.com.

Free Senior Moving Estimate
Two Man Movers & Storage is a Premier Industry Partner of NASMM and provide NASMM members and clients with special pricing. Not only are we Silver Certified, but we're also fully licensed and insured. Keep your relocation stress-free and rely on a mover that specializes in moving older adults, like us! For more information on our senior move services, please fill out our form or call us at (888) 684-7869 and get a free in-home senior moving estimate today.